Heavy Duty Anchors for Non-Cracked Concrete
Description
The Fix 3™ Stud Anchor is a true-to-size, heavy duty, multi purpose expansion anchor, for permanent anchoring into concrete. Designed for heavy duty anchoring in non cracked concrete where reduced edge distance and anchor spacing is required. Undercut shoulder on the sleeve improves hole grip and increases load performance.
Features & Benefits
• The Fix 3™ Stud Anchor diameter equals the required hole diameter providing maximum shear capacity for hole size and making drill bit selection simple. Anchor design provides superior strength and reliability.
• The anchor design ensures maximum expansion of the sleeve and pull-down on the fixture. These actions are both further assisted by the application of load.
• The anti-rotation expansion sleeve is designed to grip the sides of the hole, preventing anchor rotation during installation.
• Use threaded couplers where rod suspension applications are required.
• Suitable for installation in concrete from 80mm thick such as pre-fabricated concrete panels.
Applications
• Curtain wall.
• Guide rails, railing, machinery.
• Industrial doors and gates.
• Brickwork support angles.
• Storage systems, pallet racking.
• Stadium seating, fencing posts.
• Steel and timber framework.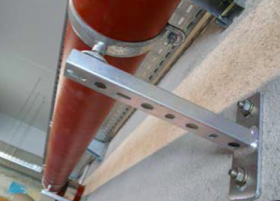 Specifications