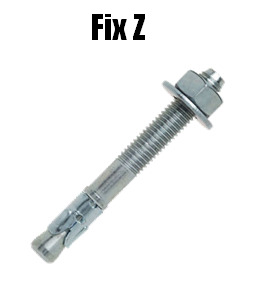 Heavy Duty Anchors for Cracked & Non-Cracked Concrete
Description
The Fix Z™ Stud Anchor is a true-to-size, heavy duty, torque controlled expansion anchor, for permanent anchoring into standard and hard concrete. Designed for heavy duty anchoring in cracked and non cracked concrete. Suitable for seismic and fire environments.
Features & Benefits
• The Fix Z™ Stud Anchor diameter equals the required hole diameter providing maximum shear capacity for hole size and making drill bit selection simple. Its cold forged construction ensures superior strength and reliability.
• The anchor design ensures maximum expansion of the sleeve and pull-down
on the fixture. These actions are both further assisted by the application of load.
• The anti-rotation expansion sleeve is designed to grip the sides of the hole, preventing anchor rotation during installation.
Applications
• Structural steel columns.
• Load bearing zones.
• Cable trays.
• Overhead piping.
• Air condition ducts.
• Securing of machines and equipment.
• Tie back brackets for façade.
Specifications