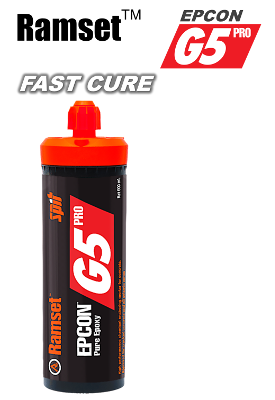 High-Strength Anchoring Epoxy
Description
Epcon G5 Pro is a high-performance anchoring epoxy specially formulated for fast all weather dispensing. Due to its fast-curing property, your team could maximise productivity. With a full cure in 2 hours, your crew can keep working more efficiently, not waiting, saving you time and money.
Epcon G5 Pro complies to Eurocodes – European Technical Approval (ETA) for use in cracked concrete, seismic, fire and 100 year working life.
It is engineered for use in structural reinforcing bar connections in slabs, columns, beams and walls, structural anchoring applications, in dry, wet, flooded holes, whether hammer drilled or diamond cored. Epcon G5 Pro is a heavy-duty pure Epoxy for anchoring threaded studs and reinforcing bar into cracked and uncracked concrete.
Advantages
• ETA approved for cracked concrete and seismic zones
• High performance pure epoxy with 100 years working life
• Fast Cure for same day loading (2 hours at 35°C)
• All weather conditions
• Fast, low fatigue dispensing
• Non shrink epoxy – suitable for cored and oversized holes
• Sag resistant – suitable for overhead applications.
• Low VOC & odourless, can be used indoors.
Applications
• Post-installed system for bond anchor e.g. starter bars and structural steel connections
• Post-installed system for rebar connections e.g. dowel bars for reinforce concrete walls, columns, slab and beams
Suggested Specifications
Epoxy Chemical
• Two component, 100% solids (containing no solvents), non-sag paste, insensitive to moisture, grey in colour.
• Compressive strength,ASTM D695: 100 MPa (7 days)
• Tensile Strength, ASTM D638: 27 MPa (7 days)
• Flexural Strength ASTM D790: 45 MPa (24 hours)
• Heat Deflection Temperature: 49°C
• Water solubility: None
• Shelf life: Best if used within 18 months.
• VOC, ASTM D2369: 0g/l
Packaging
• Disposable, self-contained 600ml cartridge system capable of dispensing both epoxy components in the proper mixing ration.
• Epoxy components dispensed through a static mixing nozzle that thoroughly mixes the material and places the epoxy at the base of the pre-drilled hole.
• Cartridge markings: Include manufacturer's name, batch number and best-used-by date, mix ratio by volume, ANSI hazard classification, and appropriate ANSI handling precautions.
Approvals / Listings
• European Technical Assessment for use in cracked concrete, seismic, fire and 100 years working life
• Eurocodes
• AS5216:2018
• AS5216:2021
• NCC 2019
• AS/NZS 4020 Contact with drinking water
• Fire Evaluation as per EN 1991-1-2 Section 3 R240
Related Products
• CUAP ChemSet™ Universal Applicator
• ISNE Mixing Nozzle
• ChemSet™ Anchor Studs
Technical Data and Documents