Products
Our Best-in-Class products from our trusted brands

Ramset™
Established in Australia over fifty years ago, Ramset™ has built a strong and enviable reputation for developing, manufacturing and supplying the building and construction industry with leading edge drilling, anchoring and fixing products.
The Ramset™ Chemical Anchoring is one of the top leading brands in Southeast Asia due to its high quality, reliability and versatility for anchoring threaded studs, rebars and starter bars into solid and hollow substrates. Our American-made Epcon G5, has become the preferred choice of the contractors when it comes to jobsite productivity as it is the only fast cure epoxy adhesive available in the market.
Ramset™ Gas Fastening System employs the latest Spit's Pulsa technology to fasten to concrete, steel and other common building materials. This revolutionary Pulsa Techonology, since its first introduction in Europe in 1992, has changed the way fastening works are done around the world.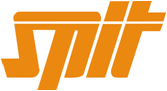 Spit
Spit is the proven expert in fixing and drilling. Founded in 1981 in southern France, Spit has developed a vast experience of European construction which has enabled it to develop a comprehensive range of anchors, resins, nailers and rotary hammer drills.
The R&D Team at Spit continually creates new innovations for the benefit of the construction industry, which reduce the overall environmental impact and improves health and safety whilst on site.
Unlike any direct competitor, Spit develops and manufactures a significant portion of its product range in Europe for both local and overseas markets. The professionals' selection of mechanical anchors have been extensively and rigorously tested to exceed the most demanding Eurocode's requirements.
Buildex®
Established in Australia in 1917, Buildex® is an industry pioneer with innovations such as Hi-Grip®, ShankGuard® and RoofZip®. Buildex® invented the Teks® self-drilling screws which revolutionized the roofing and cladding market and the rest is history.
All Buildex® fasteners are designed to do their particular job more efficiently and effectively than conventional fasteners. When you are using Buildex® Fasteners you are using the most modern fastener available.
The Buidex® manufacturing plant in Victoria, Australia produces fasteners to exacting high standards of quality and are subjected to strict inspection and testing procedures.
While any direct competitor may meet minimum requirement of the traditional "accelerated" laboratory test, Buildex® exposes its fasteners to the combination of corrosive influences that exist in the "real world" including salt spray, humidity, uv light, acid rain and compatibility with roofing sheet.

Reid™
Reid™ has a history spanning almost 90 years as a supplier of solutions to the mining and construction industries in Australia.In the 21st century, Reid™ is at the forefront of concrete reinforcement, anchoring, fastening and fixing technologies, with the design of precast concrete and tilt-up concrete construction systems a particular specialty. Reid™ product design and development team possesses over 200 years of collective engineering experience.
Reid™ manufactures and supplies well-known brands such as SwiftLift™ Concrete Lifting Systems, Spartan™ Formwork System, Reid™ connection systems and the revolutionary architectural patterned concrete technologies such as Fitzgerald™ Formliners and Graphic Concrete™ range of products. Reid products help solve construction problems and enable better performing buildings to be constructed more quickly, more efficiently and at a lower overall cost.

Miska™
Miska™ is a leading manufacturer and innovator of Expansion Joint Solutions to the Civil and Architectural markets for over 30 years with design and manufacturing facilities in Australia, supplying worldwide.
The Miska™ range offers architecturally inspired engineered solutions for floor, wall, roof, facade, ceilings and seismic applications encompassing options for aesthetics, load, movement, slip resistance, fire, vermin, water and pathogen resistance. Miska™ have specialist solutions for Retail Centres, Multi-level car parks, hospital, bridges and most other environments and can work with your design teams to ensure you specify the correct solution for your project.
Miska™ is committed to ensuring the company maintains its position as market leader for quality and product development. Their research and development skills enable them to develop new products to meet specific customer requirements.