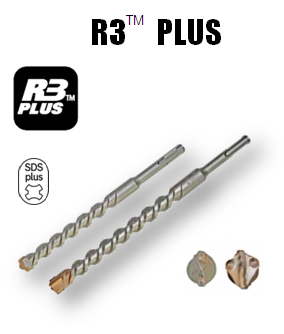 Carbide Drill Bits SDS-plus
Description
R3™ PLUS patented carbide drill bits are the perfect match for your Ramset™ DynaDrill™ or cordless rotary hammer. Together, they form a powerful concrete drilling system to get the job done faster. R3™ PLUS carbide comprises tough tungsten carbide head design and 4 spiral flutes for faster waste removal and drilling speed. R3™ PLUS fits all SDS Plus tools. R3™ PLUS carbide drill bits are also available with 4 cutter heads for greater performance and drilling accuracy.
Features & Benefits
• Long service life and low probability of breakage even on impact with reinforcements, thanks to the highly effective technique of hardening by blasting.
• Tungsten carbide cutting edge with cutting tooth profile for effective grinding of the drilling material.
• High drilling speed thanks to wide Twinmax spiral.
• Optimum low-vibration drilling protects the user.
• Certified by the Prüfgemeinschaft Mauerbohrer (PGM) in accordance with the requirements of DIBt.
Related Products
• DynaDrillDD544.
• Ramset Chemical Anchors
• Ramset/Spit Mechanical Anchors