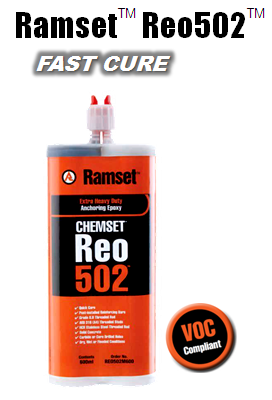 Extra Heavy Duty Anchoring Epoxy
Description
Reo502™ is specifically formulated for extra heavy duty anchoring of reinforcing bars and threaded studs in cracked and non-cracked concrete. The high performance two-component chemical anchoring system provides "peace of mind" when the hole conditions are uncertain. The pure epoxy Reo502™ formulation forms strong bonds to concrete under adverse conditions such as damp, wet or flooded holes. Due to its non-shrink behaviour, it bonds extremely well in oversized diameters and diamond cored holes.
Due to its fast curing property, you don't have to waste your valuable time waiting for longer cure times or waste money disposing of dried up nozzles. With an extended working time and a full cure within 3 hours, your crew can keep working more efficiently, not waiting, saving you time and money.
Advantages
• High Performance Epoxy: Shallower embedment depth required hence saving on materials
• Fire Resistant Structures: Tested up to 4 hours FRP according to Eurocode 2, with standardized fire curve (ISO 834)
• Fast Cure Formula: 3-hour cure time at 40°C for same day loading of anchors
• Cost savings: Less delay of work, less materials used, less nozzles used
• High Strength Non Shrink: Suitable for cored and oversized holes
• VOC Compliant: Virtually odorless, can be used indoors. LEED tested. Styrene free
• Water Insensitivity: Works in wet, flooded holes and under water applications.
• Approved for cracked, uncracked and seismic zones.
Applications
• Structural applications
• Rebar and starter bars
• Safety barriers
• Balcony fences
• Rolling cranes
• Racking
• Heavy machinery
• Structural steel to concrete
• Dynamic load and seismic
• External applications
Typical Properties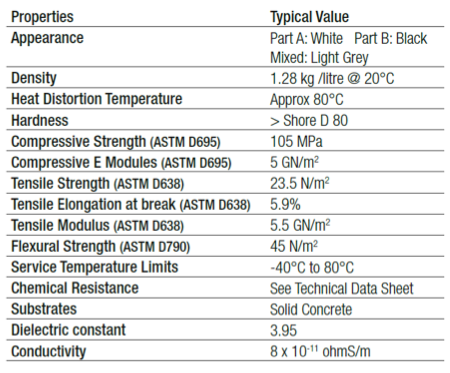 Approvals / Listings
• HDB Prefabrication Technology Centre
• ETA Option 1 for rebars & threaded studs in concrete
• ICC-ES Evaluation Report ESR-3614
• CSTB Fire resistance classification F240
• Sustained Load Test (Creep resistance)
Related Products
• DynaDrill™ High Performance Combi Hammer Drills
• R3™ MAX High Performance Carbide Drill Bits
• E102 Dispensing Tool
• ISNE Mixing Nozzle
• ChemSet™ Anchor Studs
Technical Data and Documents