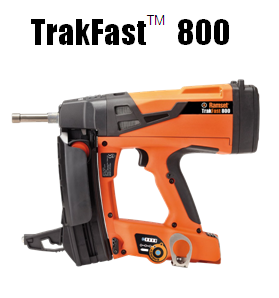 For Electrical, Fire & Security Contractors
Description
In 1993, the venerable PULSA 1000 was introduced in Europe. It was the first system that pioneered the gas-powered concrete pinner. Seven years later the PULSA 700 system was introduced, and it revolutionized the way electrical system is installed – The rest is history!
The new PULSA 800 is the most technologically advanced direct fastening gas tool on the market, with design improvements in virtually every aspect of its operation. The TrakFast™800 offers a number of innovative features allowing quicker and secure installation of a wide variety of clips for plumbing, data and electrical installations. The increased speed and productivity allows the contractor to bid more competitively, complete the job sooner and move on to the next job. NO DRILLING, NO CORD, NO LEW, ONE TOOL – ONE-MAN OPERATION.
Features & Benefits
• One-man operation – Reduces man-power requirement.
• Fully automatic direct-fastening system:
• Improves productivity up to 40 times.
• No drilling required. No dust. No continuous noise.
• Reduces downtime to manually insert fasteners.
• Best-in-class gas-actuated technology.
• IPC technology ensures efficient power control for consistent fixing.
• No electrical power source required.
• No LEW required.
• Cordless – No movement restriction at job-site.
• Single Tool – Removes tools complexities and hidden costs.
• NO NEED for; corded tool, dust remover, extension cable, hammer, drill bits, & screw-driver. (6 tools to 1 tool)
• No setting time and eases housekeeping.
• No cost due to LEW.
• Safe & Secure – Complies with MOM's H&S requirement. No operator license required to use the tool.
• Tried & Tested – Loading over 45kg in concrete and over 150kg in structural steel.
• Low maintenance. Designed to work in all conditions.
Applications
• Conduit clips fastening (Full/half saddle)
• Fire & security cabling.
• PVC conduit clips
• Cable management
• Trunking system
• Direct fixing into steel
• Permanent cable suspension.
• Permanent pipe suspension.
Specifications