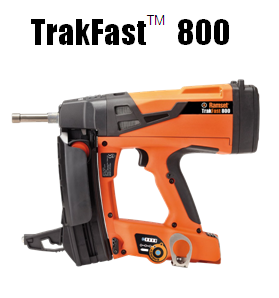 For Ceiling, Partitioning and General Contractors
Description
TrakFast™800 is the most technologically advanced gas tool on the market. The new TrakFast™800 offers a number of innovative features allowing quicker, safer installation of partitioning track, pest control mesh and formwork systems. With the 50 pin magazine and extra power, the speed at which the TrakFast™800 is able to perform installations provides tremendous savings in total installed cost.
Features & Benefits
• Massive 100J power – Consistent fixings even in extreme applications.
• Compact design with 20-pin magazine – Allows the tool to fit in tight spaces.
• Optional 50-pin magazine reduces downtime in loading the magazine.
• Battery Gauge – Helps avoid running out of battery power.
• Fuel Cell Gauge – Always know when to change fuel cells.
• Lithium Battery – Fast Charge, Long Life.
• Tool-less Depth of Drive Adjustment.
• Power Saving Technology – isolates battery when tool is not in use.
• Easily removable fastener guide and magazine.
• Greater tool clearance – Allows the tool to fit in close to edge applications.
• Greater track clearance – Allows the tool to fit in deep track, up to 57mm.
• Removable Support Leg – Ensures tool is at 90° to work surface for optimum fixings.
• Electronically controlled fuel injection – Ensures consistent power in a wide temperature range.
• Low maintenance. Designed to work in all conditions.
Applications
• Drywall track to concrete.
• Drywall track to steel.
• Plywood to steel.
• Sacrificial steel formwork to steel.
• Pest control mesh to concrete.
• Wall-tie / bonding bar.
• Window & Door frame wall-tie.
Specifications