High Performance Structural Anchors
Description
Triga Z is a heavy duty, torque controlled expansion anchor, with an integrated pull-down section, designed for high performance in both static and dynamic load applications, in both cracked and non-cracked concrete. Triga Z is ideally suited for through fixing into concrete when security and reliability are paramount.
Features & Benefits
• Heavy duty torque controlled anchors for use in concrete over 20MPa.
• Through fixing – no marking out and repositioning.
• Fully assembled.
• Variety of head styles.
• Metal "collapse system" sleeve. Patented Z shaped anti-rotation and Z shaped shearing.
• Thick wall steel spacer – increased resistance of shear forces.
• Achieves high pull-out and pull-down force values.
• High performance for fixture clamping.
• High shear and tensile capacity, Grade 8.8 steel bolt and threaded rod.
• Suitable for cracked and non-cracked concrete (ETA).
Applications
• Structural steel columns.
• Steel beams.
• Holding down machinery.
• Steel bollards.
• Industrial doors.
• Fixing of pre-cast units.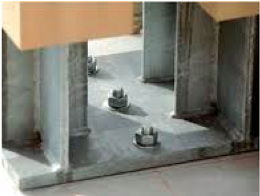 Specifications